Notícias
Sony prepara promoção GIGANTE na PS Store; veja prévia
Ação Essenciais ficará disponível na quarta (25)
A Sony anunciou que a ação Essenciais aparecerá na quarta-feira (25) na PS Store. A promoção é simplesmente gigante e trará 2.162 itens com desconto para os jogadores aproveitarem.
Dentre as opções, Star Wars JEDI: Survivor, Gotham Knights e Like a Dragon: Ishin! prometem chamar a atenção. Isso sem falar em Dead Island 2 e F1 23.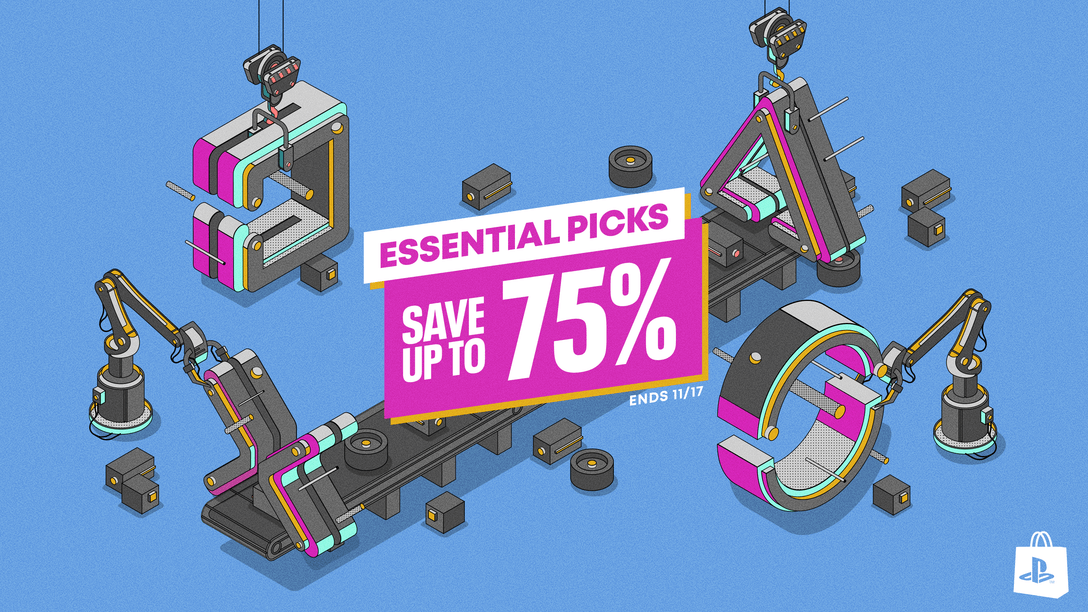 A lista completa de games que ficarão com desconto pode ser conferida abaixo:
Promoção Essenciais na PS Store
Alba: A Wildlife Adventure
Alien: Isolation
All-Star Fruit Racing
Alwa's Legacy
Anima: Gate of Memories
Anima: Gate of Memories – The Nameless Chronicles
Anno 1800 Deluxe Edition
Anthem
AO Tennis 2
Arc the Lad: Twilight of the Spirits
Arcade Game Series: Dig Dug
Arcade Game Series: Galaga
Arise: A Simple Story
Armello
Armello – Complete Edition
Ary and the Secret of Seasons
Ashen
Assassin's Creed® Valhalla + Immortals Fenyx Rising™ Bundle
Assassin's Creed Antiquity Pack
Assassin's Creed Chronicles Trilogy
Assassin's Creed Chronicles: China (SIEA)
Assassin's Creed III Remastered
Assassin's Creed IV: Black Flag
Assassin's Creed Legendary Collection
Assassin's Creed Odyssey
Assassin's Creed Odyssey – Ultimate Edition
Assassin's Creed Origins
Assassin's Creed Origins – Gold Edition
Assassin's Creed Rogue Remastered
Assassin's Creed Syndicate
Assassin's Creed Unity
Assassin's Creed Valhalla – Complete Edition
Assassin's Creed Valhalla PS4 & PS5
Assassin's Creed: The Ezio Collection
Assetto Corsa
Assetto Corsa Competizione
Assetto Corsa Competizione PS5
Astalon: Tears Of The Earth
Asterigos: Curse of the Stars
Astria Ascending
Atomic Heart – Standard Edition
Autobahn Police Simulator 2
Autobahn Police Simulator 3
Aven Colony Deluxe Edition
Bang-On Balls: Chronicles
Bartender VR Simulator
Bastion
Bat Boy
Bat Boy PS4
Battlefield 1
Battlefield 2042 – Year 2 Edition
Battlefield 4: Premium Edition
Battlefield Hardline
Battlefield Hardline Ultimate Edition
Battlefield V
Bayonetta
Beach Buggy Racing
Beach Buggy Racing 2: Hot Wheels™ Edition
Beach Buggy Racing 2: Island Adventure
Before Your Eyes
Ben 10
Best Month Ever!
Between Time: Escape Room
Beyond Blue
Big Rumble Boxing: Creed Champions
Biomutant
Black Clover: Quartet Knights
Blade Runner Enhanced Edition
Blasphemous
BlazBlue: Central Fiction
BlazBlue: Chrono Phantasma Extend
Blaze and the Monster Machines: Axle City Racers
Blizzard® Arcade Collection
Blood Bowl 2: Legendary Edition
Bloodshore
Borderlands 2 VR
Borderlands Legendary Collection
Borderlands: The Handsome Collection
Bravery and Greed
Brigandine: The Legend of Runersia
British Horror Bundle
Bud Spencer & Terence Hill – Slaps And Beans
Bug Fables: The Everlasting Sapling
Canis Canem Edit
Capcom Beat 'Em Up Bundle
Capcom Fighting Bundle
CAPCOM FIGHTING COLLECTION
Captain Tsubasa: Rise of New Champions
Castle Crashers Remastered
Cathedral
Catherine: Full Body
Chef Life – A Restaurant Simulator
Chickens On The Road
Cities: Skylines – PlayStation 4 Edition
Cities: Skylines PS5
City Police Simulator – Cop Car Games & Shooter
Clash: Artifacts of Chaos
Cobra Kai: The Karate Kid Saga Continues
Code Fairy Deluxe Edition
Code Vein – Deluxe Edition
Code: Realize ~Bouquet of Rainbows~
Commandos 3 – HD Remaster
Construction Machine Simulator 2023 : Hard Truck Work Job
Construction Simulator
Control
Cosmonious High
Crash Bundle 2021 Quadrilogy
Crash Team Racing Nitro-Fueled + Spyro Game Bundle
Creed: Rise to Glory – Championship Edition
Creed: Rise to Glory (PS4)
Cris Tales
CRISIS CORE –FINAL FANTASY VII– REUNION DIGITAL DELUXE EDITION
Crysis 2 Remastered
Crysis 3 Remastered
Crysis Remastered
Curse of the Dead Gods
Danmaku Unlimited 3
Dark Chronicle
Dark Cloud
Darkwood
Dead Island 2 Main Game
Dead Island: Riptide – Definitive Edition
Dead or School
Dead Rising
Dead Rising 2
Dead Rising 2: Off the Record
Dead Rising 4: Frank's Big Package
Death Squared
Deemo -Reborn-
Defense Grid 2
Deliver Us Mars
Demon Slayer The Hinokami Chronicles Deluxe Edition
Demon's Souls
Destroy All Humans!
Detective Reborn Bundle
Deus Ex: Mankind Divided
Devil May Cry 4 Special Edition
Devil May Cry 5 + Vergil
Digimon Story: Cyber Sleuth – Hacker's Memory
Digimon World: Next Order
Digital Premium Edition
DIRT 5 Year One Edition PS4 & PS5
DiRT Rally 2.0
Disgaea 6 Complete
Dissection
Don't Knock Twice
Donut County
DOOM
DOOM (1993)
DOOM 3
DOOM 3: VR Edition
DOOM 64
DOOM Eternal: The Ancient Gods – Part One (Standalone)
DOOM Eternal: The Ancient Gods – Part Two (Standalone)
DOOM II (Classic)
DOOM VFR
DORAEMON STORY OF SEASONS
DORAEMON STORY OF SEASONS: Friends of the Great Kingdom
Dragon Age: Inquisition – Game of the Year Edition
Dragon Ball FighterZ
Dragon Ball the Breakers Special Edition
Dragon Ball Xenoverse + Season Pass Bundle
Dreams
DreamWorks Dragons Dawn of New Riders
Dungeon Defenders: Awakened
Dungeon Munchies
Dynasty Warriors 8: Xtreme Legends Complete Edition
DYNASTY WARRIORS 9 Empires
DYNASTY WARRIORS 9 Empires Deluxe Edition
Edge of Eternity
Eldest Souls
ELEX 2
Elite Dangerous
Elypse
Endzone – A World Apart
Endzone Distant Places Bundle
Engine collection
Erica
Everybody's Gone to the Rapture
Everybody's Golf VR
Exit the Gungeon
Extinction
Extinction: Deluxe Edition
F1 23 – Deluxe Edition
Fairy Fencer F: Refrain Chord
Fall of Porcupine
Far Cry 3 + 4 + 5 + 6 Bundle
FAR CRY 3: BLOOD DRAGON CLASSIC EDITION
Far Cry 3: Classic Edition
Far Cry 5 – Gold Edition
Far Cry New Dawn – Deluxe Edition
Far Cry Primal – Apex Edition
Far Cry® 6 – Game of the Year Edition
FAR CRY®6 Standard Edition
FAR: Lone Sails
Farmer's Dynasty
Fate/EXTELLA Link
Firefighter Simulator 911 : Car Fire Truck Driver
Firefighting Simulator – The Squad PS4™ & PS5™
Firewatch
Fist of the North Star: Lost Paradise
For Honor: Complete Edition
Forager
Forspoken Digital Deluxe Edition
Fort Solis Deluxe Edition
Fracked Deluxe Edition
Fracked Standard Edition
Fuga : Melodies of Steel 2
Fuga: Melodies of Steel – Deluxe Edition
Fuga: Melodies of Steel 2 – Deluxe Edition
Funny Truck
Gang Beasts
Gas Station Simulator
Geometry Wars 3: Dimensions Evolved
Ghost of a Tale
Ghost Song
Goat Simulator 3
God Eater 2 Rage Burst
God of Rock
Golf With Your Friends – Deluxe Edition
Gord
Gorogoa
Granblue Fantasy: Versus Cygames Greatest Hits
Granblue Fantasy: Versus Legendary Edition
Grand Ages: Medieval
Gravel
Gravel – Special Edition
Graveyard Keeper
Gravity Circuit
Gravity Rush 2
Greedfall
GRID Legends (PS4)
GRID Legends (PS5)
Grindstone
Gris
Grow: Song of the Evertree
Guilty Gear Xrd REV 2
Guilty Gear Xrd -Revelator-
Guilty Gear Xrd -Sign-
Gundam Versus
Guns, Gore and Cannoli
Guns, Gore and Cannoli 2
HammerHelm
Hardspace: Shipbreaker
Heavy Duty Challenge
Heliborne
Hell Let Loose
Helldivers: Super-Earth Ultimate Edition
Hello Engineer
Hello Neighbor
Hello Neighbor 2
Hello Neighbor: Search and Rescue
House Flipper
House Flipper VR
How to Survive 2
Hunt: Showdown
Huntdown
Hunting Simulator 2 Bear Hunter Edition
I.Q Intelligent Qube (PS1) PS4
Ice Age: Scrat's Nutty Adventure
In Sound Mind (PS5)
In Sound Mind Deluxe Edition (PS5)
Indivisible
Infernax
International Boxing
Island Time VR
Itorah
Jagged Alliance: Rage!
JOJO'S BIZARRE ADVENTURE ALL-STAR BATTLE R DIGITAL DELUXE EDITION
JoJo's Bizarre Adventure: Eyes of Heaven Bundle
Journey
Journey to the Savage Planet
Journey to the Savage Planet PS5
Judgment
Jumping Flash (PS1) PS4
Jurassic World Evolution
Jurassic World Evolution 2
Just Shapes & Beats
Just Shapes & Beats – Mega Bundle
Kao the Kangaroo A Well Good Bundle
Kao the Kangaroo Anniversary Edition
Katamari Damacy REROLL
Kentucky Route Zero: TV Edition
Kerbal Space Program Enhanced Edition Complete
KeyWe
Killzone Shadow Fall
Kingdom Hearts All-In-One Package
KINGDOM HEARTS III
KINGDOM HEARTS Melody of Memory
King's Quest: The Complete Collection
KLONOA Phantasy Reverie Series
Knights of Pen and Paper 2 – Deluxiest Version
Knights of Pen and Paper Bundle
Last Day of June
Last Labyrinth
Legend of Keepers
Legend of Keepers: Complete Edition
LEGO® 2K Drive Awesome Edition
Leisure Suit Larry – Wet Dreams Dry Twice
Leisure Suit Larry – Wet Dreams Saga
Leisure Suit Larry: Wet Dreams Won't Dry – Happy Ending Edition
Lethal VR
Life is Strange: True Colors – Ultimate Edition PS4 & PS5
Life is Strange: True Colors PS4 & PS5
Liftoff: Drone Racing Deluxe Edition
Little Dragons Café
Little League World Series Baseball 2022
LittleBigPlanet 3
LocoRoco 2 Remastered
LocoRoco Remastered
Lords of the Fallen
Lost Ruins
Macan Digital Deluxe
MADDEN NFL 24 – DELUXE EDITIONS – Early Bird Deluxe Preorder + Deluxe Preorder + Post Launch Deluxe Edition
Manhunt
Maquette
Marble It Up! Ultra
Marvel vs. Capcom: Infinite – Deluxe Edition
Mass Effect: Andromeda – Standard Recruit Edition
Matchpoint – Tennis Championships
Max Payne
Maximum Football 2019
Maximum Football 2020
MechWarrior 5: Mercenaries
Meet Your Maker
Mega Man 11
Mega Man Legacy Collection
Mega Man Legacy Collection 2
Mega Man X Legacy Collection
Mega Man X Legacy Collection 2
MEGAMAN BATTLE NETWORK LEGACY COLLECTION Vol.1
MEGAMAN BATTLE NETWORK LEGACY COLLECTION Vol.2
Memories of Mars
Merchant of the Skies
Metro Exodus: Gold Edition
Mirror2_Standard
Miss Kobayashi's Dragon Maid: Burst Forth!! Choro-gon ☆ Breath
MOBILE SUIT GUNDAM EXTREME VS. MAXIBOOST ON
Monopoly Plus
Monster Boy and the Cursed Kingdom
Monster Energy Supercross – The Official Videogame 6 PS4 & PS5
Monster Hunter: World
Monster Hunter: World – Iceborne Master Edition
Monster Jam Steel Titans 2
Monster Sanctuary
Monster Truck Championship Rebel Hunter Edition
Moonscars
Moonshine Inc.
Moonshine Inc.: Supporter Edition
Mordhau
MotoGP™23 PS4 & PS5
Moving Out
Mutant Football League
Mutant Football League – Dynasty Edition
MX vs ATV All Out
MX vs ATV Legends
MX vs ATV Legends Leader Pack
MXGP 2021 – The Official Motocross Videogame
My Hero One's Justice 2: Deluxe Edition
My Time at Portia
Namco Museum Archives Vol 2
Narita Boy
NBA 2K24 Black Mamba Edition
Necromunda: Hired Gun
Necromunda: Underhive Wars
NECROPOLIS: A Diabolical Dungeon Delve
Need for Speed
Need for Speed Heat: Deluxe Edition
Need for Speed Rivals
Need for Speed™ Hot Pursuit Remastered
Neon White
Neptunia ReVerse
Neptunia Virtual Stars
Never Alone
Never Alone Arctic Collection
New Gundam Breaker
NFS 2022 – Deluxe Edition
NHRA Championship Drag Racing: Speed For All (Base Game)
Ni no Kuni II: Revenant Kingdom – Deluxe Edition
Ni no Kuni: Wrath of the White Witch Remastered
Nickelodeon Kart Racers 3: Slime Speedway (BASE GAME)
Night at the Gates of Hell (America/Europe)
NINJA GAIDEN: Master Collection
NINJA GAIDEN: Master Collection Digital deluxe
No More Heroes 3
No More Heroes 3 PS5
Nocturnal
Oddworld: Stranger's Wrath HD
Odin Sphere Leifthrasir
Okami HD
ONE PIECE ODYSSEY
One Piece: Pirate Warriors 3
One Piece: Unlimited World Red Deluxe Edition
One Punch Man: A Hero Nobody Knows
OneShot: World Machine Edition
Onimusha: Warlords
Open Country
Orbital Bullet
Organ Quarter
Out Of Space: Couch Edition
Outer Wilds
Outer Wilds: Archaeologist Edition
Overcooked!
Overcooked! + Overcooked! 2
Overcooked! 2 – Gourmet Edition
Oxide Room 104
PAC-MAN 256
Pac-Man Championship Edition 2
PAC-MAN MUSEUM PLUS
PAC-MAN WORLD Re-PAC
Paint the Town Red
Paleo Pines
Park Beyond
Party Trivia
Pathfinder: Wrath of the Righteous Full Digital/Physical
Patrick's Parabox
PAW Patrol Mighty Pups Save Adventure Bay
Paw Patrol The Movie: Adventure City Calls
Paw Patrol: Grand Prix
Paw Patrol: On a Roll!
Payday 2: Crimewave Edition
Persona 3 Portable
Persona 5
Persona 5: Ultimate Edition
Persona Dancing: Endless Night Collection
Persona® 5 Strikers Digital Deluxe Edition
PGA Tour – Deluxe Edition
PHANTOM BREAKER: OMNIA
Pizza Connection
PJ Masks: Heroes of the Night
Planet Coaster: Console Edition
POMBERO: The Lord of the Night
Portal Knights
POSTAL Redux
PowerSlave Exhumed
Prey
Pro Fishing Simulator
Prodeus
Project Warlock
Prototype 2 + DLC
PS4 ONLY Marvel's Midnight Suns Digital + Edition
PS5 ONLY Marvel's Midnight Suns Digital + Edition
Psychonauts
Pure Hold'em World Poker Championship
Puyo Puyo Tetris 2 PS4 & PS5
Pyre
Race with Ryan
RAGE 2: Deluxe Edition
Red Dead Revolver
Redemption Reapers
Redout: Lightspeed Edition
Relayer
Resident Evil Code: Veronica X
Resident Evil Village PS4 & PS5
Resogun
Revita
Rhythm Planet (Digital) SIEA
RIDE 5
RIDE 5 – Special Edition
RiMS Racing – Ultimate Edition PS4 & PS5
Rise of the Triad: Ludicrous Edition
Risk of Rain 2
Road Bustle
Road Bustle 2
Road Maintenance Simulator
Robox
Rock of Ages 3: Make & Break
Roguebook – Deluxe Edition
Rollerdrome
Romance of the Three Kingdoms XIII
Romance of the Three Kingdoms XIII – Fame and Strategy Expansion Pack Bundle
Rugby 22
Rune Factory 4 Special
Ryan's Rescue Squad
Ryu Ga Gotoku 0: Chikai No Basyo
Sailing_Era
Saints Row IV: Re-Elected
Sakura Succubus 4 PS4 & PS5
Sakura Succubus 6
Salt and Sacrifice Standard
Salt and Sanctuary
Sayonara Wild Hearts
SBK™22 PS4 & PS5
SCARLET NEXUS PS4 & PS5
Scars Above
Scott Pilgrim vs. The World™: The Game – Complete Edition
ScourgeBringer
SD GUNDAM BATTLE ALLIANCE
Season
Serious Sam: Siberian Mayhem
Session: Skate Sim
Seven: Enhanced Edition
SG/ZH: School Girl Zombie Hunter
Shadow Gambit: The Cursed Crew – Base Game
Shady Part of Me
Shenmue I & II
Sherlock Holmes Chapter One PS5
Sherlock Holmes The Awakened
Sherlock Holmes: Chapter One PS4
Sherlock Holmes: Crimes and Punishments
Sherlock Holmes: The Devil's Daughter
Shin Megami Tensei III Nocturne HD Remaster Digital Deluxe Edition
Shining Resonance Refrain
Ship of Fools
Shotgun King
Sifu Deluxe Edition
SIGNALIS
Skautfold: Shrouded in Sanity
Sky Force Anniversary
Slay the Spire
Sniper Elite VR
Sniper Ghost Warrior 3 – Season Pass Edition
Sniper Ghost Warrior Contracts
Sniper Ghost Warrior Contracts 2
SnowRunner – Premium Edition [NEW BUNDLE]
Solar Ash
Somerville
Sonic Colors: Ultimate
Sonic Colors: Ultimate – Digital Deluxe
Soul Hackers 2
Soul Hackers 2 Digital Premium Edition
Soulcalibur VI
Souldiers
Soulstice: Deluxe Edition
South Park: The Fractured but Whole
Space Engineers: Ultimate Edition
Space Explore
Space Explore (PS4 & PSVR) Edition
Space Explore VR
Space Hulk: Deathwing – Enhanced Edition
Space Hulk: Tactics
Sparkle Unleashed PS4 & PS5
Spike Volleyball
SpongeBob SquarePants: Battle for Bikini Bottom – Rehydrated
Sports Bar VR 2.0
Spyro + Crash Remastered Game Bundle
Squad 51 vs. the Flying Saucers
SR5 Gold Edition
STAR OCEAN THE DIVINE FORCE
Star Ocean: First Departure R
Star Ocean: Integrity and Faithlessness
Star Ocean: The Last Hope – 4K & FHD Remaster
Star Ocean: Till the End of Time
Star Wars Jedi: Survivor Deluxe Edition
Stardew Valley
Starni Games
Steelrising – Deluxe Edition
STORY OF SEASONS: A Wonderful life
STORY OF SEASONS: Friends of Mineral Town
STORY OF SEASONS: Pioneers of Olive Town
Stranded: Alien Dawn
Strategic Mind: Fight for Freedom
Strategic Mind: Spectre of Communism
Stray
Stray Blade
Street Fighter V: Champion Edition
Street Fighter V: Champion Edition + Season 5 Premium Pass Bundle
Street Fighter: 30th Anniversary Collection
Street Outlaws 2: Winner Takes All (Base Game)
Street Outlaws 2: Winner Takes All (Digital Deluxe)
Strider
Styx: Master of Shadows
Submersed
Summum Aeterna
Super Arcade Soccer 2021
Super Bomberman R
Super Mega Baseball 4 Ballpark Edition Bundle
SWORD ART ONLINE Alicization Lycoris
Sword Art Online: Fatal Bullet
Sword Art Online: Hollow Realization
Synth Riders + Complete Music Collection
Syphon Filter (PS1) PS4
Syphon Filter 2 (PS1) PS4
Syphon Filter 3 (PS1) PS4
Tales from the Borderlands
Tales of Arise PS4 & PS5
Tales of Berseria
Tales of Vesperia: Definitive Edition
Tamarin®
Tchia
TCTD2 Game
TCTD2 Standard Edition (Brazil/Japan/Asia)
TCTD2 Warlords of New York Ultimate Edition
Tekken 7
Tekken 7 – Definitive Edition
Telling Lies
Temtem
Tennis World Tour – Legends Edition
Teslagrad 2
Teslagrad Power Pack Edition
Teslagrad Remastered
Tetraminos
That's My Family: Family Fun Night
The Beast Inside
The Chant
The Colonists
The Dark Pictures Anthology: Little Hope
The Disney Afternoon Collection
The Escapists
The Forgotten City
The Hong Kong Massacre
The Interactive Movie Bundle
THE KING OF FIGHTERS XIV ULTIMATE EDITION
The Last Remnant Remastered
The Legend of Heroes: Trails from Zero
The Legend of Heroes: Trails into Reverie
The Legend of Heroes: Trails of Cold Steel
The Legend of Heroes: Trails of Cold Steel II
The Legend of Heroes: Trails of Cold Steel III
The Legend of Heroes: Trails of Cold Steel IV
The Legend of Heroes: Trails to Azure
The Origin: Blind Maid
The Pathless PS4 & PS5
The Riftbreaker
The Riftbreaker Gold Edition
The Room VR PS5
The Room VR: A Dark Matter
The Sinking City PS5 Deluxe Edition
The Tale of Onogoro
The Unfinished Swan
The Unicorn Princess
The Vanishing of Ethan Carter
The Walking Dead: Saints & Sinners – Chapter 2: Retribution – Payback Edition
The Warriors
The Yakuza Origins Digital Bundle
The Yakuza Remastered Collection
theHunter: Call of the Wild
theHunter: Call of the Wild™ – Greenhorn Bundle
Them's Fightin' Herds: Digital Deluxe Edition
They Always Run
Thief – Including 'The Bank Heist' DLC Mission
Thunder Ray
Thymesia
Timespinner
Titanfall 2: Standard Edition
ToeJam & Earl: Back in the Groove!
Tokyo Dark: Remembrance
Tokyo Xanadu eX+
Tom Clancy's Ghost Recon Breakpoint: Deluxe Edition 2021
Tom Clancy's Ghost Recon Breakpoint: Gold Edition
Tom Clancy's Ghost Recon: Wildlands
Tom Clancy's Ghost Recon: Wildlands – Ultimate Edition
Top Gun Air Combat
Trails into Reverie (PS5)
Train Life – A Railway Simulator PS4
Train Life – A Railway Simulator PS5
Transistor
Treasure Hunter Simulator
Trollhunters: Defenders of Arcadia
TT Isle of Man: Ride on the Edge 3
Turn-Based Battle Bundle
Twelve Minutes
Twin Mirror
Ultimate Marvel vs. Capcom 3
Ultra Age
Umbrella Corps
Umbrella Corps – Deluxe Edition
Undead Horde 2: Necropolis
Under The Waves [SUBMARINE]
Underdog Detective
Undernauts: Labyrinth of Yomi
Underworld Ascendant
Universal Flight Simulator
Unpacking
Unravel
Unravel Two
Vacation Simulator
Valkyria Chronicles Remastered
Valkyria Chronicles Remastered + Valkyria Chronicles 4 Bundle
Valkyria Revolution
VALKYRIE ELYSIUM (PS4) – Digital Deluxe Edition
VALKYRIE ELYSIUM (PS5) – Digital Deluxe Edition
Vanquish
Vernal Edge
Virtua Fighter 5 Ultimate Showdown Main Game &TEKKEN 7 DLC Pack
Void Bastards
WAIFU IMPACT
Warhammer 40,000: Shootas, Blood & Teef
Wasteland 3
Watch Dogs 2
Watch Dogs 2 – Gold Edition
Watch Dogs: Legion – Standard Edition PS4 & PS5
Watch Dogs: Legion – Ultimate Edition PS4 & PS5
Watch Dogs: Legion PS5
Wattam
Way of the Hunter
We Were Here Too
Weedcraft Inc
Weedcraft Inc. Bundle
Werewolf: The Apocalypse – Earthblood Champion of Gaia
What Remains of Edith Finch
Wild Hearts Karakuri Edition Bundle
Windmill Engine
Winkeltje: The Little Shop
Wobbledogs Console Edition
Worms Battlegrounds
Worms World Party [PS1 Emulation]
WRC Generations – The FIA WRC Official Game – Deluxe Edition
Wreckfest PlayStation®5 Version
WWE 2K Battlegrounds Digital Deluxe Edition
WWE 2K23 Deluxe Edition
WWH Complete Series Bundle (FriendShip)
XCOM 2
XCOM 2 – Digital Deluxe Edition
XEL
XEL – Complete Edition
Xenon Racer
Yakuza 6: The Song of Life
Yakuza: Like a Dragon Legendary Hero Edition
Yakuza: Like a Dragon Legendary Hero Edition PS4 & PS5
Yakuza: Like a Dragon PS4 & PS5
Ys VIII: Lacrimosa of DANA
Ys VIII: Lacrimosa of DANA (PS5)
Ys: Memories of Celceta
Yu-Gi-Oh! Legacy of the Duelist – Link Evolution
Zombie Army 4: Dead War
戦場のフーガ
超次元ゲイム ネプテューヌ Sisters vs Sisters
Curtiu a prévia da Promoção Essenciais da PS Store? Ela se estenderá até o dia 17 de novembro! Fique ligado aqui no MeuPS para saber quando ela ficar disponível na quarta (25).